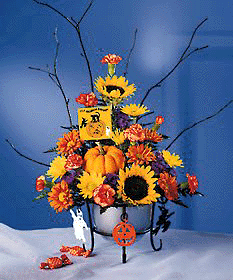 Young and old alike will be enchanted by our Halloween autumn arrangement! It's filled with all the flowers of fall and even a mini Pumpkin. The unique glass and metal bowl doubles as a candle holder and container with removable hanging Halloween ornaments: a witch, ghost, black cat, and pumpkin.
Available October 4 - November 1 Approx. 12H x 18W.
All items featured on this web site represent the types of arrangements we offer and may vary depending upon availability in certain regions.

Available for
Delivery to United States and Canada.
ITEM - ANY-09
US $44.99 - Shown

US $59.99

US $69.99
Take advantage of the reduced service charge when you order online!
Add US $6.99 service charge plus local taxes.