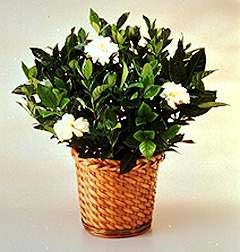 Gardenia Plant in a Wicker Basket Placed in a lovely woven wicker basket, our gardenia plant can arrive either in bud or bloom. 15" - 18" in height, the sweet fragrance of these beautiful white blossoms make a striking contrast against their dark foliage.
Size may vary.
All items featured on this web site represent the types of arrangements we offer and may vary depending upon availability in certain regions.

Available year-round
Delivery to United States and Canada.
ITEM- PLA- 11
US $49.99 - Shown

US $59.99

US $69.99
Take advantage of the reduced service charge when you order online!
Add US $6.99 service charge plus local taxes.